Helpful Sources
Beginner's Book for Kayakers
The Beginner Book is an unofficial publication for the Pikes Peak Whitewater Club. It was written and edited by members of the Pikes Peak Whitewater Club:
River Safety at Arkansas Headwaters Recreation Area:
Colorado State Park Pass Descriptions
The document itself is information on the various parks passes and their 2014 fees. For newcomers, unless you have a large vehicle for which to run shuttle for your trips, you may want to consider saving yourself some money and opt to pay the $7 a day fee each time you need to park in a designated area. Club members often carpool and frequently park in areas where a permit isn't needed. OR if you have a small vehicle that wouldn't work too well for shuttle, you may not be using your car very much this season. However, the parks department can always use the support. Gauge this as you need to. Please check out this PDF document that describes all the park passes:
General Kayaking Links
Colorado Stream Gages by Division American Canoe Association American Whitewater Mountain Buzz
Photography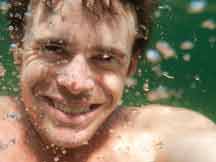 Many images at the top of these pages are by Darin McQuoid. He generously agreed to their use on our site. Darin is part of the Jackson Kayak Factory Team and, like most of us, he loves kayaking. "For me personally kayaking has been life defining, and the most empowering thing I've ever done. The challenges and real and concrete, as are the rewards and the potential consequences. In a world full of gray areas, undefined expectations and vague goals a day on the river is black and white, a successful journey from point a to point b. I believe this, and time in remote beautiful places, is what I embrace, but only a small part of the big picture. Perhaps like a lot of things in life, the beauty of kayaking is that the beauty is too complex to be truly defined."
Check out more of Darin's work at his website: Darin McQuoid